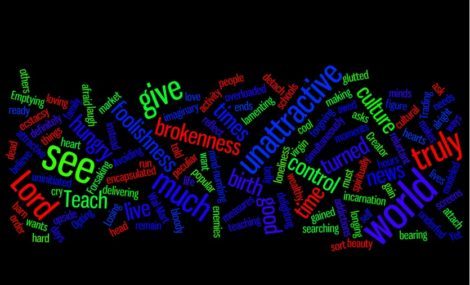 Emptying self?
Forsaking family?
Losing our life to gain it?
Why do you ask such hard things, Lord?
How do we figure out needs and wants in a one-click Amazon world?
What sort of foolishness is loving enemies and forgiving 70 times 7?
How do we market teaching this in our schools?
How can we see what you want us to see?
Both delighting in ecstasy and bearing brokenness as you modeled for us,
We are simultaneously overloaded and underfed,
Trading the moments of our days for time on screens,
Avoiding the times of loneliness, searching and longing,
Opting instead for hours of mind-numbing activity.
Are we ready to give up our control in a glutted and indulgent society?
Are we lamenting the brokenness we see?
Are we hungry for you, Lord?
Your "good news" asks too much,
It is not attractive or popular,
It makes us a peculiar people, definitely "not cool"
"Be not afraid" you have told us again and again,
Yet as much as we run into dead ends of our own making,
We are reluctant to give up much of our imaginary control of our lives,
Teach us Lord to "cry from the heart and laugh from the belly"* with our world.
We are truly awed at your incarnation – your birth was most unattractive,
Creator of all encapsulated in an uninitiated virgin delivering a bloody birth in a barn.
You have turned our world upside down,
Give us hearts and minds to truly see you,
To reflect on your beauty,
To live and teach your unattractive ways.
You are "the good news to all who would believe. . ."
The foolishness that must be gained by all who would truly live.
*Phrase borrowed from Richard Rohr in Everything Belongs.
(This post originally appeared in the Nurturing Faith blog, December 16, 2008.)
Author

Dan Beerens is an educational consultant, author, international speaker, and educational leader. Before starting DB Consulting in May 2010, he served as Vice President of Learning Services and Director of Instructional Improvement at Christian Schools International. Prior to that, he was the Director of Curriculum and Instruction for Holland Christian Schools. Dan has also worked as teacher and principal in urban and suburban public and Christian schools in Wisconsin and Illinois. Dan regularly presents on teacher evaluation and professional growth, curriculum design, school improvement, technology integration, faith integrated learning, and student faith development at regional, national and international conferences. He is the author of Evaluating Teachers for Professional Growth: Creating a Culture of Motivation and Learning published by Corwin Press.